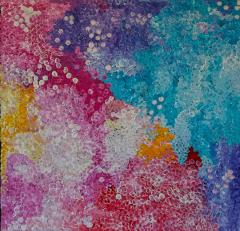 Exhibitions: From the Sea + From the Desert
27 March to 2 May 2020
Exhibition opening: Saturday 28 March all day 10 – 5pm
Given concerns surrounding COVID-19, this exhibition opening will be an all-day event. The gallery staff will be observing recommended health regulations.
FireWorks Gallery presents two distinct group exhibitions From the Desert and From the Sea. Featured are over 50 paintings, prints and sculpture from a broad mix of local and national Indigenous & non-Indigenous artists from across Australia.  Some of the key artists showcased, are from remote communities which have played a critical role in building the global understanding and appreciation of Aboriginal art.
From the Desert is a vibrant exhibition featuring works from Utopia, Central Desert and regions within the Western Desert. Artists from Utopia include the quintessential painter from the 1990s Emily Kame Kngwarreye (FW19309) alongside some of her peers Minnie Pwerle, Gloria Petyarre, Kathleen & Poly Ngal (FW19287), Cowboy Pula and Violet Petyarre. These artists' developed painterly styles of expressive body paint designs and impressionist landscapes. Paintings from the Western Desert include key works from Tommy Watson (FW19316), Dorothy Napangardi, (FW19306), and Maggie Watson Napangardi (FW19307) all well known to major collectors worldwide.  These can be seen alongside smaller works from Warlukurlangu Arts Centre.  Whether its explosions of bright colour or stark, black & white minimalist compositions the works reveal a constant repetition of traditional designs all with their individual interpretative spin. The display also subtly documents the transition for many artists over the last decades from 'dot' painting into 'linear + expressive' composition.
Juxtaposing this exhibition, From the Sea features a selection of North QLD artists (Alick Tipoti, George Passi & Glen Mackie) working in printmaking and timber sculpting. Showing for the first time at FireWorks Gallery, Tipoti, a Torres Strait Islander, is a master printmaker who is guided by the traditional cultural practices of his people (FW19298). Bark paintings by Yirrkala coastal artists (Djirrirra Wunungmurra, Nawurapu Wununjmurra) are displayed alongside paintings by Lockhart River artist Samantha Hobson, Mornington Island artist Sally Gabori and Brisbane-based Alick Sweet with three of his colourfully painted, handcrafted 'croc' sculptures included.
Sunshine Coast artist David Paulson's portrait of legendary Torres Strait Islander artist Ken Thaiday (FW11748) was painted whilst they worked together in Cairns 2010 with mentoring projects. This artwork captures not only the character of the artist but the associated stories that echo in the background.  For over 20 years Paulson has painted many Indigenous artists portraits, often as entries into the Archibald Prize (AGNSW).
The two exhibitions are perhaps obvious reminders of the diversity within the Australian geography highlighting the distinct range of ancient and modern stories, comments Michael Eather, FireWorks Gallery Director.
Artwork prices range from: $225 - $55,000