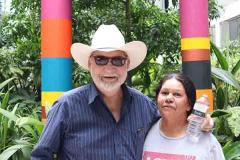 | | |
| --- | --- |
| Exhibition title/s: | River Totem Revival: Joanne Currie Nalingu & Ian Waldron |
| Exhibition duration:  | 18 June to 24 July 2021 |
| Where: | FireWorks Gallery, 9/31 Thompson St, Bowen Hills |
| Exhibition opening: | Saturday 19 June 2pm-4pm |
| Media Contact: | Michael Eather |
| Phone: | 0418 192 845 |
| Email: | |
| Exhibition cost: | Free |
Following a majorly successful public art installation River Totem Revival at Royal Brisbane Women's Hospital (RBWH) in 2020, Joanne Currie Nalingu and Ian Waldron join forces in an exhibition presenting a broad range of their work.
The exhibition, also titled River Totem Revival, will be officially opened by curator Lynne Seear who worked with the commissioning body (Australian Unity) for the RBWH project.
A dynamic compilation of new artwork by these two Queensland artists is punctuated by selected key works from the past several years illustrating a natural dialog within and between their individual practices. The use of bright, contemporary colour combinations and minimally refined sculptural forms is a shared attraction. Vivid oranges, greens, purples, and pinks ripple through the measured construction of each artist's work, conveying a particular optimism in the exhibition space.
Another common thread in River Totem Revival, is each artist's connection with their country, in particular with the rivers that run through them. For both Joanne's Maranoa River (Mitchell) and Ian's Norman River (Gulf Country), these critical waterways may be seen as a metaphor for the ongoing ebb and flow of life's phases.  
Ian's work champions his seminal life experiences growing up on his family-owned cattle station on the Gulf of Carpentaria. The artist, a Kurtjar man, also uses his characteristically graphic narrative to deploy concerns about man's inevitable effect on the natural environment, as in works like Unspoken I. Undeniably a central work in the exhibition, The Gulf presents a point of anchor for Waldron's career spanning over forty years. Says Ian, "My art is the visual representation of my identity - I am my country. As a title, The Gulf is my homeland, but also an ambiguous reference to a chasm between two worlds."
Joanne's distinctive painting style has been directly influenced by not only the movement and lines of the Maranoa River, but literally by her early memories of growing up on its banks in the Yumba! Since 1994, she has also researched the designs of the Maranoa shields, subsequently exploring these forms, lines and textures in her art. River shield revival is a recent, three-dimensional realisation of the combination of these two themes, which the artist previously explored in large painted canvases such as The river is a shield.
Gallery Director, Michael Eather has said: "The two artists both individually and collectively have created enchanting new works that unashamedly speak of spiritual regeneration. We can all see the raw magic of vibrant colours, age old forms and a deep sense of their own place in the world."
Artwork prices range from: $925 - $27500