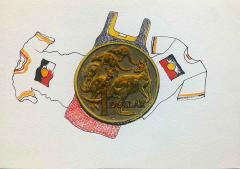 MEDIA RELEASE - FOR IMMEDIATE RELEASE
Exhibition title/s: Laurie Nilsen: One Day at a Time & Paddy Carroll Tjungurrayi (PCT) Tribute Collection
Exhibition duration: 14 February to 21 March 2020
Where: FireWorks Gallery, 9/31 Thompson St, Bowen Hills
Exhibition opening: Saturday 15 February, 2 – 4pm
Media Contact: Michael Eather
Phone: 0418 192 845
Email: michael@fireworksgallery.com.au
Exhibition cost: Free

FireWorks Gallery's first two exhibitions for 2020 will present works by local contemporary Indigenous artist Laurie Nilsen in One Day at a Time alongside the Paddy Carroll Tjungurrayi (PCT) Tribute Collection. A mini-survey of the past 20 years showcases on the ground-floor some 15 of Nilsen's paintings, works on papers and sculptures/installations; a further 15 small newly completed works on paper will also be displayed. On the mezzanine level, the PCT Tribute Collection comprises 13 significant artworks including four classic Western Desert style paintings, three experimental paintings and two experimental works on paper, all featuring traditional elements. These are accompanied by four major collaborative paintings with Campfire Group Artists – Richard Bell, Joanne Currie, Michael Eather and Laurie Nilsen. In 2003, the PCT Tribute Collection toured with the Regional Art Galleries Association of Queensland.

Nilsen has maintained a prolific art practice, spanning over 40 years. He was a foundation member of the Campfire Group Artists in the early 1990s and has been a founding member of proppaNOW Artists Collective since 2004. An avid storyteller, Nilsen commented on his 2007 painting There goes my neighbourhood III… Sometimes as I walk past these works, I find myself recognising characteristics of people in my own family...one photographer documenting my work (2008) in the Darwin Museum actually thought one of those big works looked like me!. The artist's signage series also includes his totem, the emu; these works on paper were first shown in the exhibition Insurgence (with proppaNOW Artists Collective) at the Museum of Australian Democracy Old Parliament House in Canberra 2013. In the installation, Unfinished games, Nilsen explores notions of introduced species as a commentary on the social and spiritual entrapment of Indigenous people. The artist has continued to manipulate barbed wire for decades in sculptures depicting not only life-size emus but also fish traps, such as Once were fishermen II 2014. Dollar Dilemma, Nilsen's recent series of small works on paper takes a detour, referring to "a recent dilemma that is currently being discussed by lots of Aboriginal people, regarding the legal use of Harold Thomas' original design for the Aboriginal flag and its commercial application. I thought if I make some graphic work with it, it will raise the subject and hopefully create some room for open debate and discussion".

In April 2002, Tjungurrayi (along with Michael Nelson Jagamara) came over from Papunya and completed a five-day workshop at FireWorks Gallery in Stratton Street, Newstead. Tjungurrayi had long been interested in developing some experimental styles with the brush and began a new series. Although his energy levels were limited he completed five new works on paper and linen. The artist left four of the large canvases unfinished with just pencil sketches of new designs; these were to be completed on his next visit six weeks later. Sadly, Tjungurrayi passed away during this time; it was then decided that Campfire Group Artists would 'complete' his canvases as a tribute to a unique Australian artist. Permission for this was gained from his family via messages passed through Jagamara at the Papunya Council. In relation to these collaborative works, FireWorks Director Michael Eather commented: "Symbols including Tjungurrayi's Men's Muliera initiation design, and Goanna Dreaming design were elaborated with form and colour to leave the artists' designs strong and vital in the way he would have wanted it."

Whilst planning exhibitions and related events for 2020, Eather was buoyant and encouraged to look back at what has been achieved over the past 20 years at FireWorks Gallery.
Laurie Nilsen artwork prices range from: $120 - $16,500 Paddy Carroll Tjungurrayi (PCT) Tribute Collection: POA