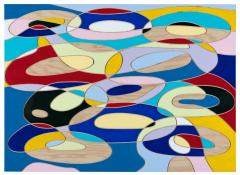 Exhibition title/s:

Nature's Way: Rosella Namok

Violet Indigo Moss Series II: Sharonne Solk

Guardians of the Secret 1999-2017: Lyell Bary

Exhibition duration: 
Where:

Friday 16th February to Saturday 17th March 2018

FireWorks Gallery, 52a Doggett St, Newstead QLD

Exhibition opening:

Saturday 17th February 2-4pm

Media Contact:

Michael Eather

Phone:

0418 192 845

Email:
Exhibition cost:            Free
Three exhibitions open the 2018 program for FireWorks Gallery – now in its 25th year! Renowned Indigenous artist Rosella Namok (Cairns, Far North QLD) displays her gestural strokes in her Nature's Way acrylic on canvas paintings; Sharonne Solk (Uki, NSW) presents her Violet Indigo Moss Series II oil paintings; and, Lyell Bary (Brisbane, QLD) exhibits his Guardians of the Secret 1999-2017 acrylic on plywood paintings. These artists all demonstrate - through an interest in the subtle rhythms of nature – an abstracted minimalist aesthetic in their paintings.
Namok, perhaps the most successful artist to emerge from the Lockhart River community, maintains her energetic painterly styles with a new collection of 24 works. In this exhibition six of her most distinctive stories are explored through an array of vivid colour and formats: Stinging Rain, New Village, People and Couples, Unchii Tree & Beach Wood, Full Moon, and, Rainforest. Themes and variations arise from a personal response to lifestyle changes for her family and communities, including concerns with urban development in amidst the artist's reflections on the timeless charm of her homeland habitat. Works such as Sunrise Rain I 2017 and Houses in the Cyclone 2017 exemplify Namok's artistic approach.
After graduating from Art School in the UK in 1992 Solk exhibited in Brighton and London. The artist then worked for two decades developing animated characters for film luminaries George Lucas and George Miller; in 2005 Solk was an animator for Harry Potter and the Goblet of Fire. More recently, she has turned her creative sensibilities back to fine art, exploring human emotion through the simplicities and complexities of pure colour. Ten artworks composed of different width horizontal bands– with an intense colour palette predominantly green, purple, black and white – have been completed for this exhibition.
Born in New Zealand, Bary moved to Australia in 1981, establishing himself in Brisbane. This will be the artists first exhibition at FireWorks Gallery; six pieces have been selected showcasing earlier seminal pieces such as Bud I 2002 alongside both a recent work Reflected Neon in the Motel Swimming Pool 5 2017. The artist (2017) commented on this latter work: It is the unique pattern from the grain in each sheet of plywood that attracts me! Bary acknowledges the influence on his work by Surrealist artist Max Ernst (1891–1976) who used timber to make rubbings that recalled plants and animals.
Gallery Director Michael Eather has said: If there is a unifying element in these three shows it would have to be the geometry of nature, and a fascination for drawing with the mind's eye. All are mutually explored by three inquisitive artists.
Artwork prices range from: $1100 - $22000